Benton Man Rescued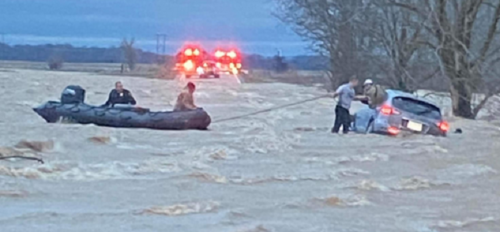 A Benton man had to be rescued Thursday morning when he drove his car into high waters on the Norris City blacktop in Hamilton County. The motorist told rescuers that he drives the same route each day, but apparently failed to heed a "flooded road ahead" sign.
The incident happened at 6:25 Thursday morning. McLeansboro fire department, Hamilton County Sheriff and ambulance personnel responded with a boat to make the rescue. One official said the wind was blowing so hard that the floodwaters were whitecapping.
The man, not identified by police, was safely rescued from his nearly submerged car and suffered no injuries.
Areas around the region received as much as 2 ½ inches of rain Wednesday night. A severe thunderstorm warning was issued for White County around 4 am.
Hamilton County Sheriff Tracy Lakin shot the photo of the dramatic rescue.