US Marshals Assisted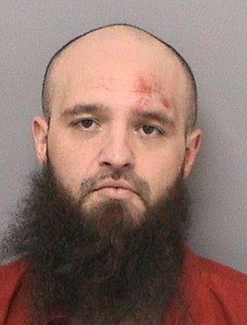 On Tuesday January 24th, 2023 members of the Mt Vernon Police Department and Jefferson County Sheriff's Department Narcotics Unit teamed up with members of the United States Marshalls Task Force to arrest 34 year old Roberto M Roman.
The detectives had developed information indicating Roman was hiding in a trailer at 16584 North Illinois 37. Roman was wanted on a Jefferson County warrant charging Roman with Failure to Appear Unlawful Delivery of Methamphetamine, Bond $50,000 (10% applies). Roman was located hiding inside the residence.
Once entry was made multiple illegal items were observed in plain view. After working with the Jefferson County States Attorney's Office, the detectives were able to secure a search warrant for the residence. During a search of the residence, detectives located two illegal firearms, quantities of methamphetamine and narcotic packaging materials.
In addition to the warrant, Roman was additionally charged with Armed Violence, Armed Habitual Criminal, Possession with Intent to Deliver 15-100 Grams of Methamphetamine and Possession of a Firearm by a Felon. Bond is to be set.