For Older Adults in the Community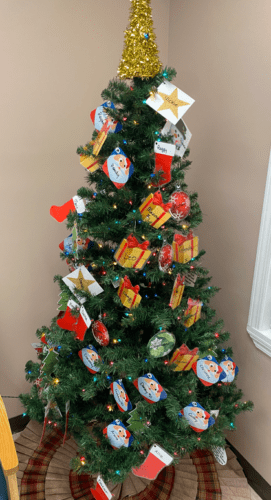 The Senior Life Solutions Department is sponsoring an Antique Christmas Angel Tree for older adults throughout the community who are in need or do not have any family nearby. Each ornament on the Antique Christmas Angel Tree has the name of an older adult, along with items they desire or need. Simple things like a warm blanket or socks can warm their hearts, minds, and bodies during this holiday season.
Anyone who would like to sponsor an "antique angel" can choose an ornament from the Antique Christmas Angel Tree by contacting the Senior Life Solutions Department at 618-847-8298.
Once you are ready to return your gift, please call FMH Senior Life Solutions at 618-847-8298 or Mary Knight in Administration at 618-847-8243 to arrange for the drop off of your gift. Gifts need to be by Tuesday, November 29th and they do not have to be wrapped.
"The Christmas spirit comes alive whenever our staff show up at their door to deliver their gifts. Seeing the smiles, and sometimes tears, on their faces is heartwarming and reminds how great it feels to be able to give to those in need in our community. It truly is an indescribable feeling. This is our sixth year to host this program and we love being a part of it! We appreciate all of the support that our staff and community gives to help make this program a success." commented FMH CEO Katherine Bunting-Williams.