Security Officer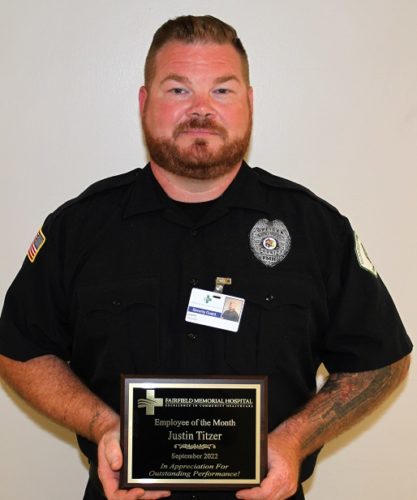 Fairfield Memorial Hospital honors an employee each month who has been nominated by their peers for providing extraordinary patient care and customer services within and outside of the Hospital.
Justin Titzer who works as a Security Officer at Fairfield Memorial Hospital, was selected as the September 2022 Employee of the Month. Justin has been with Fairfield Memorial Hospital since April of 2022. Justin is extremely hardworking and reliable.
"Justin has exceeded all expectations and he comes to us with amazing skill level. He works hard to protect everyone that comes into our facility. He is always willing to step in wherever he is needed to help make the job smoother." commented Russell Shockley, Security Department Manager.
"Justin has been very beneficial to our team here at Fairfield Memorial Hospital. He has shown true courage and perseverance when working late shifts in our Emergency Department. When faced with a challenge, Justin has went above and beyond the call of duty to protect our patients and our staff. Justin deserves to be acknowledged for his hard and dedicated work. He truly cares about his duties and that is why he deserves to be named September Employee of the Month." stated FMH CEO Katherine Bunting-Williams.